Shipping Insurance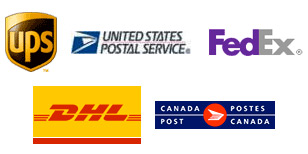 Shipping Insurance covers the value of the package(s) you are shipping through a variation in the ocean marine policy. If your package is lost, damaged, or stolen in transit, shipping insurance will ensure that your receive full remuneration for the value of your package. InsureShip's Shipping Insurance covers all major carriers, including: USPS (United States Postal Service), UPS, FedEx, DHL, Canada Post, and most common freight carriers (land/ocean/air).

When you add shipping insurance to your shipments you are adding peace of mind for both you and your customer. Shipping Insurance insures the full value of your package no matter how you ship it for with whom you ship it. This has a number of benefits for you and your customer, mostly being that Shipping Insurance provides a guarantee that no value will be lost on your item if it is damaged during shipments.

Other benefits to carriers and shop owners is the ability to add an extra revenue stream to your business with shipping insurance. When you offer your customers shipping insurance, you're adding an extra value to each sale. Because InsureShip's shipping insurance rates are so competitive, you can make dollars in additional profit off of each shipment you make. What's even better is that the security customers feel when they see an item is guaranteed with shipping insurance ultimately increases your conversions. Shipping insurance gives you a twofold increase in your revenue.

Shipping Insurance Benefits with InsureShip

All-Risk, Primary Shipping Insurance coverage available in the name of your client for cargo owner's property.

Easy online claims management with the InsureShip Shipping Insurance Claim Center.

The ability to offer additional Shipping insurance to your clients to increase your bottom line.

Flexible Shipping Insurance rates based on specific commodities, conveyance type, and value.

Shipping Insurance Coverage available for both Domestic and International Shipments.

Whether you are one of these companies that needs shipping insurance on thousands of shipments a day, or just an individual looking to purchase shipping insurance on a valuable one-time shipment. InsureShip has a custom shipping insurance option to fit your needs.

Contact Us - Mon thru Fri, 9-5 pst

Licensed by the CA DOI #0G55434
The InsureShip™ name and logo are trademarks of Online Shipping Insurance Services, Inc.
Copyright 2014 - 2023
www.insureship.com
, Online Shipping Insurance Services, Inc.